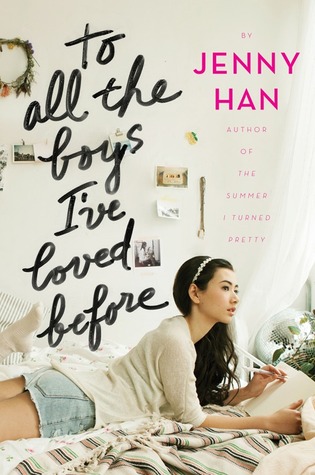 To All the Boys I've Loved Before by Jenny Han
My rating: 3 of 5 stars
Book Description :
To All the Boys I've Loved Before is the story of Lara Jean, who has never openly admitted her crushes, but instead wrote each boy a letter about how she felt, sealed it, and hid it in a box under her bed. But one day Lara Jean discovers that somehow her secret box of letters has been mailed, causing all her crushes from her past to confront her about the letters: her first kiss, the boy from summer camp, even her sister's ex-boyfriend, Josh. As she learns to deal with her past loves face to face, Lara Jean discovers that something good may come out of these letters after all.
~*~*~*~
I wanted to read this book for a long time now but when I started watching, it didn't have much of a grip me. Hence I decided to stop reading midway and tried out for the movie first. There is a ton of material which is missing from the movie but has given more context to the book. I felt like there was something missing which would surely give this book a much better traction.
I have read a lot of teen fictions before but this one so far looks good. It has a lot of cultural references which would just go overhead if you are not accustomed with them. Being an Indian I had to google almost every other food item or some dialogue. It can be a good learning experience for sure. This book shows the perspective of a teenager from USA for sure.
It's a simple story but nothing unique or attention gripping to it. I felt this was an okayish read. Although it was annoying when the book ended on the cliffhanger. I know the end since I already had seen the movie but still, the cliff hanger won't drive me to read the next one if I hadn't watched the movie first. Many of my friends said it gets interesting ahead hence I just decided to post a little review for it instead of reviewing the whole series.
Link :
https://amzn.to/2HtNM0N
Link for the Box Set :
https://amzn.to/2UL9P60